Advanced Networking Laboratory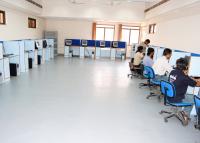 Contact person: Prof. P. K. Singh Dial: 0751-2449746
Objectives and Activities
Objective of this laboratory is to offer research in areas of:
Storage area networking (SAN);

MPLS (Multiprotocol label switching);

Mobile IP (internet protocol);

Multi-service over IP;

Voice over IP;

Information security;

Wireless and Ad hoc networks;

Aviation Security;

Radio frequency identification (RFID);

Quality of Service (QoS).
These activities are offered to 1st year M. Tech candidates in area of 'advance networking'. Activities of this laboratory are specifically meant for Doctoral candidates and students undertaking projects.
Infrastructure
Personal computers, sensor nodes and LAN training kit comprise the hardware installation of this laboratory.
Room no D-203 is the location of this laboratory.