Computational Nano Science and Technology Laboratory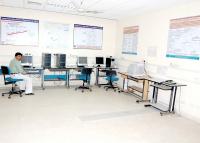 Contact person/s: Prof. Anurag Shrivastava (Advanced Materials Research Group)
Prof. Pankaj Shrivastava (Nano Materials Research Group)
Dial 0751-2449734
Objectives and activities
This laboratory offers research in areas of : i) Quantum information theory; ii) Nanoscale effect in CMOS (complementary metal oxide semiconductor) technology; iii) Carbon nanotubes for IT applications; and iv) MEMS (micro-electro mechanical systems) and NEMS (nano-electro mechanical systems).
Activities of this laboratory are directed towards research and development on semiconductors of wide band gap category. Activities towards developing materials for device modelling is another are also carried out in this laboratory.
Infrastructure
This laboratory is equipped with server, personal computers, printers and UPS. Software installations include Origin, CASTEP MS-Studio Suite, Redhat Linux.
This laboratory is located in room E-112.